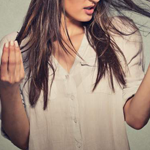 Woman addicted to eating her own hair has giant hairball 'with tail' removed from her stomach…
A 38-year-old woman, who was suffering from nausea, vomiting and an extremely swollen abdomen made her way to the hospital recently. She revealed that she had also suffered dramatic weight loss, losing 15 pounds over the previous eight months after she lost her appetite.

The unnamed woman was rushed into surgery, where a giant hairball, nearly 6" in diameter,  was found lodged in her digestive tract, with a small "tail" of hair trailing into her intestines and a second 1.7 inch hairball nestled deeper in her bowel.

Here it is! This weeks #CaptionContest sponsored by our good friend Scott Weeks & #RecluseCigars.
Enter your best caption for this photo and automatically be entered to win a 5-Pack of #RecluseCigars on our Facebook.
Congratulations to Jimmy Howard for Winning Last Weeks Recluse Cigar #CaptionContest!